Roger Jahnke OMD Institute of Integral Qigong and Tai Chi (IIQTC)
5276 Hollister Ave. Ste. 257
Santa Barbara, CA 93111
Phone 805-617-3390

Fulfillment 800-431-1579
Email info@feeltheqi.com
Copyright © 2007, All Rights Reserved, FeeltheQi.com, Roger Jahnke OMD
The Healer Within: Using Traditional Chinese Techniques to Release Your Body's Own Medicine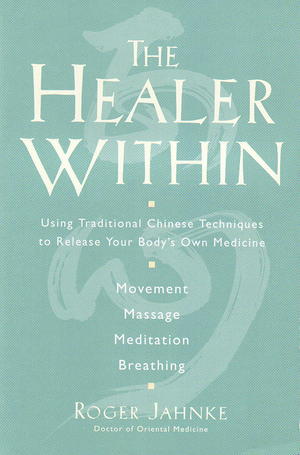 In the last decade, U.S. government health agencies have agreed that 70% of all disease is preventable and that 60% of adults do not get enough exercise and are therefore, at risk for premature death. Dr. Roger Jahnke, a Doctor of Oriental Medicine, translates Asian traditions of self-care (such as Qigong and Tai Chi) into a four-part program of health promotion for daily practice.
The first component, gentle movement of the body, consists of five rhythmic exercises described and illustrated with clear line drawings. The second, self-applied massage, combines massage of the ears, hands, and feet--each area a microsystem of the body that relates to specific, distant body areas or organs--with general self-massage.
Next are breathing practices using abdominal breathing in specific techniques such as the "Sigh of Relief." These techniques are intended to help you take in more oxygen and get rid of tension. Concluding the program are several methods of deep relaxation and meditation, crucial to calming and focusing the mind. The meditation chapter provides an easy introduction to various meditative techniques and deep relaxation so beneficial to reducing stress.
The reader can experiment and choose among the varied practices to tailor an easy to implement individual regimen. Dr. Roger Jahnke makes a persuasive argument for using these mind-body healing techniques both to recover from illness and to remain healthier and happier. The Healer Within is used in mind-body training programs in corporations, schools, conferences, social service agencies, and retreat centers worldwide.
If you live outside the United States or Canada, please email Health Action Inc offices to make arrangements to purchase Dr. Jahnke's books and DVDs. Thank you!
A member of the Health Action family of companies
Health Action Inc, 5276 Hollister Avenue Suite 257, Santa Barbara, California 93111
Phone: 805-617-3390
Legal Stuff
Copyright 2007, Health Action Inc, All Rights Reserved.